Press page 2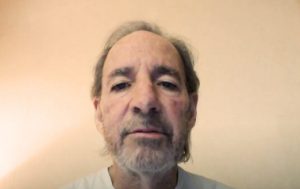 SPINAL TAP Star HARRY SHEARER Releases Twelfth Song In DONALD TRUMP Series: 'He Lies'
October 25, 2020
Blabbermouth
As the race for the White House enters its final frenetic stage, Harry Shearer, one of the creators of the iconic mockumentary film "This is Spinal Tap," has released "He Lies," the latest track from his forthcoming album, "The Many Moods Of Donald Trump." "He Lies" is the twelfth song from the thirteen-track collection that chronicles the predictable unpredictability of Trump's behavior during his time in office…
---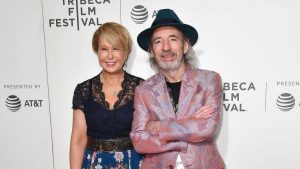 The 76-year-old "The Simpsons" Actor Is Voicing An Album With Trump As The Singing Star
By Kristian Lindberg
October 23, 2020
Berlingske
Harry Shearer, best known as the voice behind 'The Simpsons' character Mr. Burns, has devoted an entire song album to making fun of US President Donald Trump….
---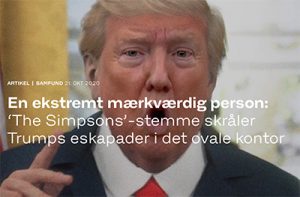 An Extremely Strange Person: 'The Simpsons' Voice Rants Trump's Escapades In The Oval Office
By Emilie Sondergaard
October 21, 2020
Heartbeats DK
Few series have had a lifetime like 'The Simpsons,' which last year celebrated its 30th anniversary. Over time, the animated series has not only entertained on television, but has in several cases outright "predicted" the future. Twenty years ago, they predicted that Donald Trump would become president, not least that the country would be pretty much on the ups and downs — which seems more realistic…
---
Trump Is Grilled By 'The Simpsons' And 'Spinal Tap' Star
By Mads Kornum
October 17, 2020
Side 33
Den 30. oktober er der et nyt album ude fra den amerikanske komiker og musiker Harry Shearer, der især har slået sit navn fast som stemmen bag Mr. Burns' i "The Simpsons" – og som en del af den legendariske gruppe Spinal Tap – kendt fra kult-filmen "This is Spinal Tap" – og tre album udgivelser…
---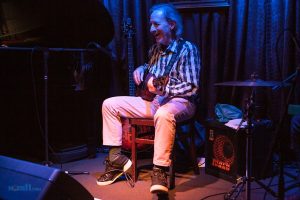 Harry Shearer Creates Comedy Gold With The Many Moods Of Donald Trump
By Paul Cashmere
October 16, 2020
Noise 11
Donald Trump has been the Godsend of comedy writers. For the past four years people like Stephen Colbert, Seth Meyers and Jimmy Kimmel have dominated their shows with Trumpisms. Now Harry Shearer has as well…
---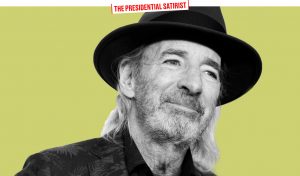 The Simpsons' Harry Shearer on Reuniting Spinal Tap to Stop 'Scary' Trump
By Lloyd Grove
October 14, 2020
The Daily Beast
The comedy great who voices Mr. Burns, Ned Flanders, and more on "The Simpsons" opens up about parodying Trump through song and a "Spinal Tap" reunion to raise funds for Dems…
---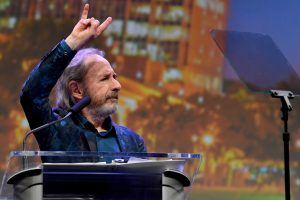 Harry Shearer Talks 'Many Moods Of Donald Trump,' Return Of 'The Simpsons'
By Kelli Skye Fadroski
October 08, 2020
Orange County Register
Shearer has taken real-life soundbites from President Trump and turned them into a collection of comedic tunes…
---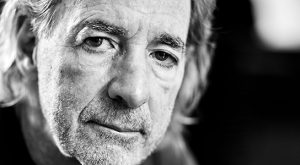 Harry Shearer To Release Album Of Donald Trump Songs
By Andy Malt
October 02, 2020
Complete Music Update
Harry Shearer has announced an album of his satirical songs written from the perspective of Donald Trump. Which is possibly poorly timed now that the President has come down with COVID-19. Who knows? How are we meant to feel about all that?
---

HARRY SHEARER as Donald Trump On New Song, "I Never Knew Him"
By Celtic Bob
September 12, 2020
Metal-Rules
HARRY SHEARER, as Donald Trump, has just released a new song in a series which runs with a song a week leading up the November election. "I NEVER KNEW HIM" is the seventh track of a song cycle in which the star of "The Simpsons" and "Spinal Tap" explores the often absurd and sometimes sinister vagaries of the presidential mind during his time in office…
---
---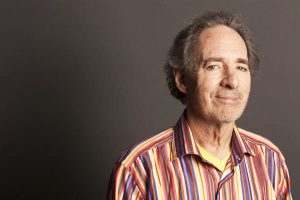 Harry Shearer Explores Donald Trump's Many Moods On New Album
By Steve Hochman
August 27, 2020
OffBeat Magazine
Harry Shearer is often in New Orleans—pandemic or no. And New Orleans is rarely far from his mind even when he's not there. The actor (Derek Smalls of This is Spinal Tap, a vast number of voices on "The Simpsons"), satirist (his decades-running weekly radio hour "Le Show"…
---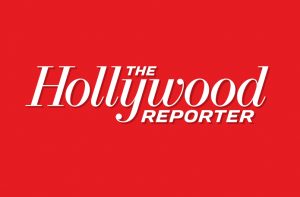 'Simpsons' Actor Harry Shearer Mocks Trump On New Album
By Chris Gardner
August 19, 2020
Hollywood Reporter
On July 23, Simpsons voice legend Harry Shearer dropped a new music video on YouTube titled Son in Law. Shearer sings, acts and even does a shimmy dance — but not even if you squint will you see him. And that's the point…
---